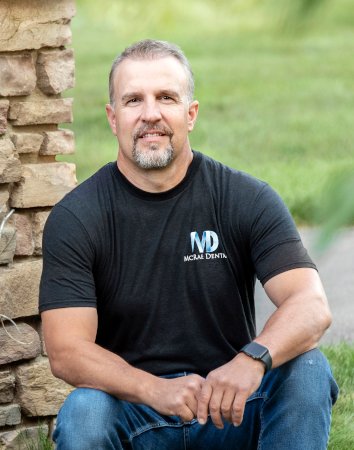 Dr. McRae and his team want you to feel relaxed and comfortable in their care. They would like you to know a little bit about them and hope to get to know you as well.
"When I was a kid, I hated going to the dentist because I always knew I would get a shot. I was so scared of them that I usually let the dentist drill without anesthetic. Those past experiences made me think there had to be a better way of doing this.
I think the biggest misconception in dentistry today is that it's the same as it was 25 years ago. That is not the case, and here at McRae Dental, we are showing our patients that we can make things much more comfortable for them. I treat all of my patients with the same care that I would give to my own wife or kids if they were in the dental chair. I will do anything in my power to make a patient's visit the best dental experience they have ever had." – Dr. McRae
Dr. McRae graduated from Oregon Health Sciences University School of Dentistry in 1996 and has since had a successful practice in Meridian, Idaho. He has continued his dental education with some of the most advanced functional and aesthetic courses available in dentistry. In 2000, Dr. McRae received an advanced degree from Pacific Aesthetic Continuum, one of the world's most respected cosmetic dentistry training programs. This commitment to additional training keeps Dr. McRae up to speed on the latest developments in dental technology and materials, allowing him to provide the highest standard of care and comfort to his patients. After training with the nations leading aesthetic dentists, Dr. McRae has been a sought after instructor at many dental schools and teaching institutions across the nation.
Dr. McRae has had his work published in the Journal of the American Academy of Cosmetic Dentistry. He is well-known for his commitment to quality aesthetic and general dentistry. He is also a respected member of several professional organizations, including the American Academy of Cosmetic Dentistry, the American Dental Association, and the Crown Council, a national group of leading-edge dentists committed to providing exceptional care. In 2000, Dr. McRae was awarded the Crown Councils "Young Dentist of the Year Award".
In partnership with the Crown Council and country music star Garth Brooks, Dr. McRae is a founding member of the Smiles for Life Foundation, an organization that benefits underprivileged and seriously ill children. Since 1998, the Smiles for Life Foundation has donated more than $33 million dollars to children in need. He also has visited Africa and Dominican Republic in recent years on several humanitarian missions to help those in need.
Dr. McRae and his wife, Holle, have been married for over 25 years and have four wonderful boys, two of which have a desire to follow in their fathers footsteps in the field of dentistry. Besides spending time with his family he also enjoys fishing, camping, hunting, mountain trail riding, is an Ironman tri-athelete, competitive sport sharp shooter, swimming, and enjoys volunteering his time to give back to the community.